Legends of Dragons, the Book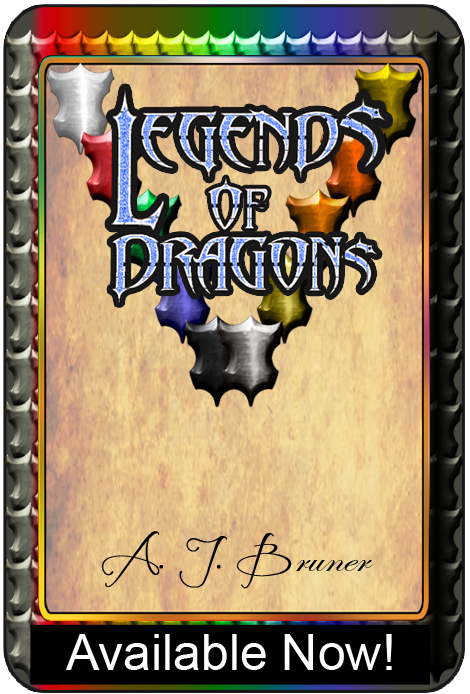 About the book...
Legends are often sustained for eons. Passed along through spoken word or an epic writing. In a world of dragons, elves, and humans, where racial tensions often spark confrontation, a threat to the continuing existance of all life has risen and a time of momentous change has come once again. Can old hatreds be buried and forgiven in the face of such an adversary or will they stand as impassable walls? Either way, the end will come at a great cost. Only a new legend can help to heal the world.
About the game...
Legends of Dragons, the Card Game (LODtCG) was spawned from the written material, but with more broad strokes of information. The game can be played as a Single-Player, Two-Player versus, or Multiplayer, with some changes. Each player uses a standard 50-card LODtCG deck to eliminate their opponent(s). Each deck contains Dragon Cards and Action Cards. Dragon Cards are utilized for Attacking and Defending and consist of 10 species with varying abilities, stats and colors. Action Cards are events that usually effect the entire playing field. For more strategic play, the World Map may be incorporated to include region-based conquering. For roleplaying fans, Avatar Dragon Sheets have stats that can be altered through gameplay, as well as allowing the Avatar Dragon to gain levels to meet Milestones. There will be a Kickstarter for the card game, and a special hardcover edition of the book, in 2020. More
A.J.'s Notes...
I began writing the book material first, the game concepts came later. This was my first step into a mythical fantasy setting, like the type I used to read in my youth, and my first chance to create a physical game. Some of my influences came from the Dragonlance Saga(tm) by Margaret Weis and Laura & Tracy Hickman, Magic the Gathering(tm) card game, and concepts from Ultima(tm), created by Richard Garriott.
Availability
Book coming in 2020, Game coming in 2021...
---